Each individual Medicine and Spirit bag should contain power objects. Bags can be of various sizes and contain a few or many objects. Herbs, stones, tobacco, animal bones, claws, feathers, cornmeal and fetishes are the most common. Also, a snip of your hair, a special jewelry piece or anything that is of significance to you can be put in your bag. If the bag is a gift, the owner has to add something of their own to it.
The most common herbs used are sage, sweetgrass, cedar and tobacco. Others that are often used are lavender, pinion and thyme.
Bags are usually worn around the neck but can be put on belts, in pockets or purses. These are the individualís sacred bag and objects and cannot be opened by any one else. The person can take items out of the bag to show to people if so desired.
Stones can be taken out and other stones put in as wanted due to the needs of the owner. The other items need to always remain in the bag.
Larger items such as feathers can be wrapped in a larger bundle. Roots and rattles could also be put into this.
Each item in the bag is essentially a talisman and is representative of sacred power.
The most important thing to remember is that this bag is to increase the spirituality and sacred power of the owner. It is never to be used for evil or the bad of others. It is strictly to be used for the good of all.
ALL PRICES for Bags ARE IN US FUNDS
STARTING PRICE for Bags - $12.00 .....
Discounts for purchase of 3 or more per order
M -- is for Medicine Bag
S -- is for Spirit Bag
T -- is for Totem Bag
#1-S
#2-M
#3-S
#4-M
#5-S
#6-S
#7-S
#8-S
#9-M
#10-T
#11-T
#12-T
# 13-T
#14- M
#15-S
These are some of the Metal Trinkets I use for a very nice looking add-on
add $1.25 per each add-ons.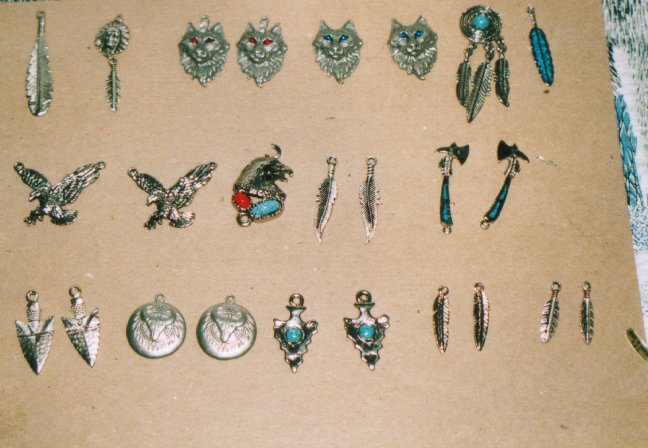 We also make
Earrings $ 12.00 per pair
Keychains $ 7.00 each
Braclets $ 20.00 and Up

You may order a bag BY NUMBER that is available from the pictures of bags shown or you may order a personalized bag just for you or as a gift for someone you love. I will then create a medicine bag, a totem bag or a spirit bag for you similar but not identical to one of the bags shown in the pictures, or you may commission a bag to be made to your specifications. Every bag is individual and one of a kind including the ones shown. If you would like a bag and do not have an idea for it, you may share with me some of your thoughts about it and I will suggest some designs for a bag for you.



ORDER BY MAIL
Please inform us the details of your order . We'll confirm your order with a return email, and will enclose instructions for sending payment.
Please use the info below if you are sending a check,certified cashier check or money order payment by postal mail.All personal checks must be cleared before product is shipped.
Shipping is Extra
in Canadian funds
All orders are shipped the same day funds are received. Please choose your preferred method of shipping below. You will be advised of the amount in your Order Confirmation email, and will have the opportunity to change your selection before your order is processed. Please note: Overnight service is not available in all areas.
Regular
Canada Post (insured), 2-3 weeks* Rush UPS ,3-5 days* Overnight UPS
Next day delivery*
* business days from the time funds are received.



Payment
Preferred payment method:
Money Order
in Canadian funds only
Cashiers Checks
in Canadian funds only
Personal Checks takes 10 days to clear and a $25.00 charge for NSF checks


click on the money sign to find out what the exchange is
Your Information
All of the following is required. We cannot process incomplete order forms.
Please re-check that your information and order is correct before sending.
Name:
Email address:
Telephone number: () -
Full Delivery Address:
(No P.O. Boxes. Please include your postal/zip code)

May we add you to our confidential email
list to receive our newsletter? Yes- No

Please check your information before sending. If any of your information
is incorrect or omitted, your order will not be processed properly.